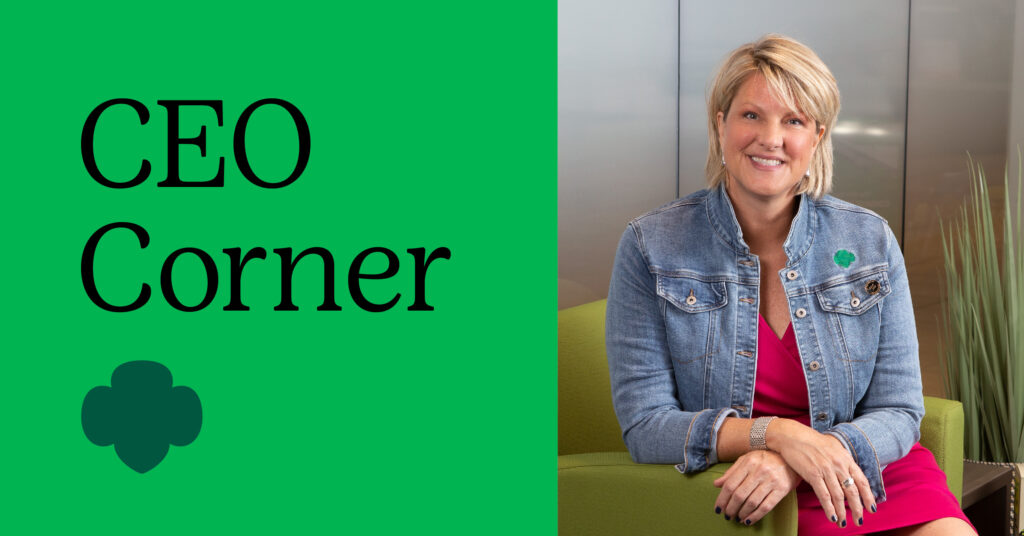 Hey, Girl Scouts!
I am so honored and humbled to be at Girl Scouts of Western Washington. This month marks my one-year anniversary at this remarkable organization. In that time, I have learned so much about the transformative experience we provide for the young people we are so lucky to serve. Our work could not be possible without the outpouring of generosity from all our donors, the tireless dedication of our volunteers, the unwavering commitment of the staff and board, and finally the spirit, creativity, leadership, resilience, and absolute brilliance of the young people themselves.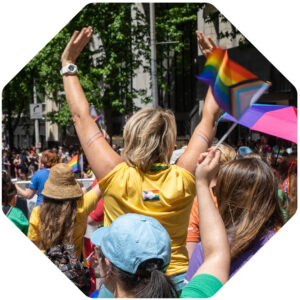 Over the past twelve months, I made it a priority to connect with as many of you as possible—to hear your concerns, listen to your ideas, and to thank you for sticking by us even when times were tough. I am amazed by all of you and your dedication to ensuring that Girl Scouts of all backgrounds and abilities can be unapologetically themselves as they discover their strengths and rise to meet new challenges.
Many of you have asked about my vision for the future, and from the beginning I have said that I could not develop a strategic vision for Girl Scouts of Western Washington without you. I want to personally thank everyone who has carved out time to meet with me, participated in focus groups and surveys, or emailed me directly. Your collective wisdom, lived experiences, and deepest desires for the future of Girl Scouts will be the foundation for the strategic work our team will do at Macy* in May. I promise to bring this shared vision back to you in October so we all have a clear path to advance the incredible mission of Girl Scouts.
This winter, I had the privilege of championing the efforts of local Girl Scout Cookie sellers taking part in one of the largest youth-led and the largest girl-led entrepreneurial program in the world. In my first cookie season as CEO, I was blown away by the creativity, growth, and commitment of our youth and volunteers alike. And I was lucky enough to see many local cookie sellers in action!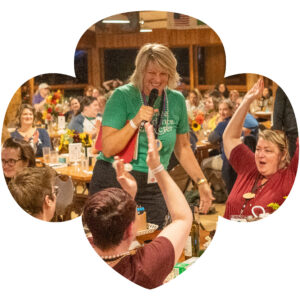 On behalf of our whole council, I sincerely thank everyone who bought or donated cookies to help each Girl Scout reach their goals and unlock invaluable entrepreneurial experiences. This year, an astonishing 74 Girl Scouts sold over 2,000 packages each! Additionally, over 1,500 Girl Scouts demonstrated their digital storytelling expertise by creating their own cookie commercial and uploading it to their digital storefront. While these stats are undeniably impressive, numbers don't begin to explain the confidence, critical thinking, teamwork, and entrepreneurial savvy that Girl Scouts develop through the cookie program. These tangible business skills, particularly the real-world experiences Girl Scouts gain in digital marketing and online sales, will help local youth grow into visionary leaders in an increasingly digital business world.
Thank you for your partnership as we support the next generation in making the world a better place. From camping trips to international travel, from taking flight to making change, you make it all possible. We couldn't do any of this without you.
With gratitude,

Andrea Anderson, CEO
Girl Scouts of Western Washington
*Edith Macy Center is a Girl Scout Conference Center located in upstate New York. Girl Scouts of the USA is committed to the health and well-being of Girl Scouts of Western Washington and is subsidizing the cost of our strategic planning staff retreat in May.