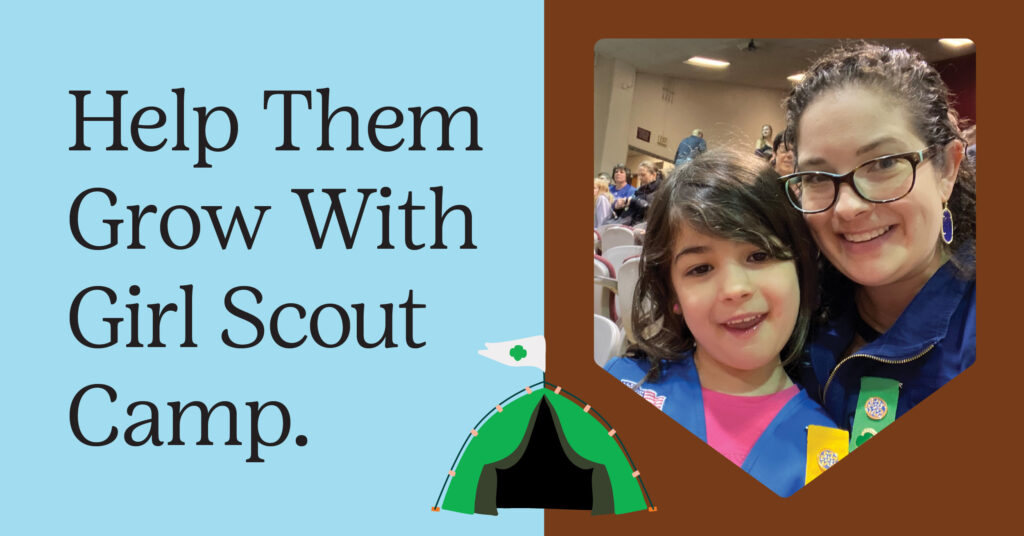 In 2022, Girl Scout Lara (they/them) went to overnight camp for the first time, thanks to the Girl Scouts of Western Washington financial assistance program sustained by our wonderful donors! Lara and their mother, Veronica (she/her), shared about their experiences with Girl Scout camp, including financial assistance, making fairy houses and new friends, testing their limits by boating and sleeping under the stars, and learning from older Girl Scout role models.
Veronica: We came from Texas, and a year later we started a Girl Scout troop. Two years later, and my child is off to sleep away camp, which is not an experience I ever had. I only dreamed of going to sleep away camp—I'll be honest, I thought they didn't exist anymore.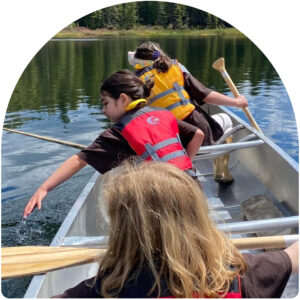 We originally planned to send Lara to Camp Robbinswold for mermaid camp because we thought it fit their personality and interests. Thanks to the generosity of the Girl Scout donor community, Lara was actually able to go to camp sessions at both Camp Robbinswold and Camp River Ranch. I don't know how we got picked for an extra week of camp; I was just very grateful.
The financial aid experience with Girl Scouts has always been very accessible and dignified. I've never felt like we're having to provide a lot of information or put ourselves in a potentially embarrassing situation. It's just very direct. "Will your child benefit from this? Can we make it easier and more accessible for you? Then here it is." It's now part of my personal Girl Scout mission as an adult participant to help people understand how accessible it is.
It was great to have a full regular school year plus summer experiences. When we first joined Girl Scouts, we were really, really looking forward to camp, but then it just wasn't an option, partly because of COVID-19 and partly because of Lara's age. Finally being able to go made it feel like Lara had a whole, good second-grade year, especially ending with something
exciting to look forward to during the summer.
Lara: I went to art camp and mermaid camp last year. At art camp, we made fairy houses in the woods. I went together with my friend, Petra. It wasn't my first time away from my mom and dad. I've stayed with my grandparents. But it was my first time going to an overnight camp. I was nervous that I wouldn't make any friends besides Petra. But we did.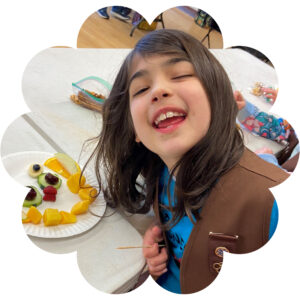 At mermaid camp there was a tank with lots of fishes and stuff. We got to touch the crabs and starfish and learn about them. There was a starfish named Bobby. Some of the other fish had names, but not all of them. The counselor let me and my friend name one of them. We went to the beach with lots of rocks and found tiny crabs underneath that we got to pick up and hold. We also did a special badge with our counselor, Huckleberry.
Veronica: As part of her Gold Award, Huckleberry was finishing up marine biology educational programming. She created ways for the campers to learn about whales, including experiments demonstrating how whale teeth, baleen, and blubber work.
Mermaid camp was a hit for a lot of different reasons. Lara didn't swim as much as we thought they would—they're usually all about going in the water, but it ended up being too cold. They did a lot of learning, boating, and dock surfing. Lara has still slowed down a bit on swimming, but I've noticed they're much more adventurous in general. When we go outside, like to a
park or field, they go farther away from us and climb trees, which isn't something they used to do. Whenever Lara's around friends with similar interests, they're even more adventurous. It was really good for them to be in a place like camp with like-minded kids, adventuring and testing their limits together.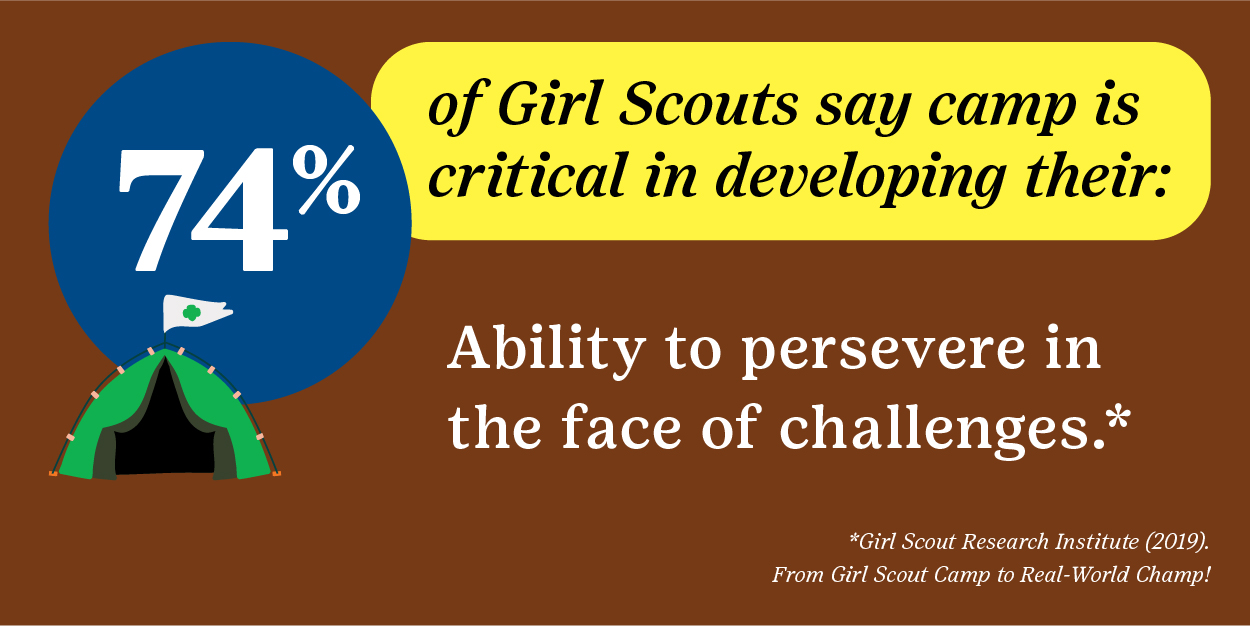 Lara: At mermaid camp, I got scared. We were in kiwi kayaks that only fit one person. I got nervous when there were waves, and I was nervous about orca whales. A friend I made there got scared because her boat felt tippy. I helped her be less scared, which felt good. I feel much braver after going to camp.
Veronica: We sent Lara to camp with pre-addressed envelopes and stamps so when they had downtime, Lara could just write a card and send it off. It was really funny because Lara came home and the next day, their letter arrived. It was so cute because Lara was telling us how much fun they had and how they couldn't wait to go to camp again, but in the card they
were saying how they were scared and going to miss us. It was really nice to be able to show that back to Lara and be like, "Look, you had so much fun! You didn't have to be scared." It was an awesome opportunity for them to just be themself.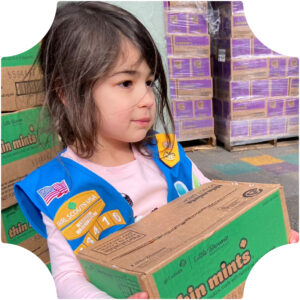 We're trying to send Lara to camp again this year. It's part of their cookie goal, so that's what they've been leading with when people ask how they'll use the money. Hopefully, Lara can do the Water Crazy unit, and they've said they want to bring mermaid tattoos this time. I'm hoping there
will be more kids from our troop going to Girl Scout camp, too, now that we've got a good endorsement and felt so comfortable and confident with everything Lara experienced.
Lara: I want all my friends to be able to go to camp. It's fun, and I want to go together. Camp is more fun than school. We get to do lots of activities. Next time I want to try making food at camp.
Veronica: The Seattle area and the Western Washington area have a lot of transplants. We came from a completely different climate. As much as we try to get the kids to go and enjoy being outside, camp brings it to another level—they can't avoid nature when they're playing, sleeping, and living in it for a week. At camp, Lara gets so much more knowledge about where we live and the diversity of plants and species. I think it's really important for kids to have that, especially if they're newer to the area.
Camp is really practical, too. As a working parent, your kids need something to do in the summer, and a lot of close-to-home group care is just about having a safe place to be. At camp, they're learning life skills, making friendships, creating their own memories and traditions. I think it's a really awesome opportunity to provide a place for your kids to go and have a really enriching experience.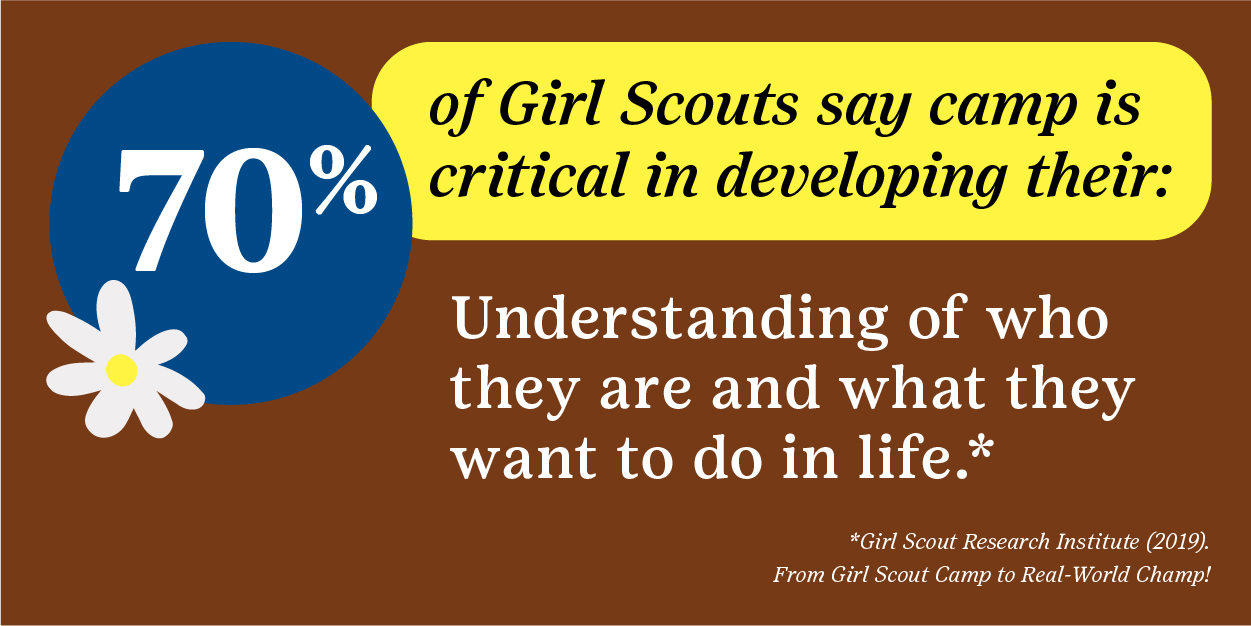 Camp is available to every Girl Scout because of financial support from donors. Your gift allows campers like Lara to learn, grow, and become the leaders our world needs. Please consider donating to Girl Scouts to keep financial assistance—and camp magic—available for every Girl Scout family. 
Ready for your own Girl Scout camp adventure? Sign up for a summer session or book your own stay at our campsites, or find a Girl Scout day camp program near you.
Need financial assistance to participate in the camp program of your dreams? We've got your back. Learn more and apply online.