Andie Mitchell saw a need in her community and took action to improve it, but that's just a small part of this Girl Scout's journey.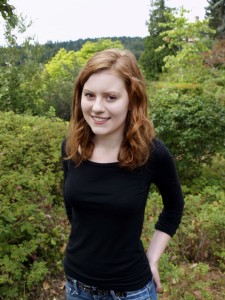 Andie, a Bainbridge Island native, knew she wanted to complete her Gold Award—the highest award a Girl Scout can receive—but was unsure what her community needed. It was a meeting with the parks department that introduced her to rain gardens.
"When I started, I didn't even know what a rain garden was, but now I'm a huge supporter of them," Andie says.
She teamed up with the parks department and a local rain garden expert to convert a swampy, marshy area near the beach into a native plant oasis that would absorb water and filter pollutants from the road above.
Andie went further than just creating the rain garden, though. She partnered with her school's AP Environmental Science classes and taught about the benefits of rain gardens, helping to arm over 150 students with the knowledge they need to start their own rain gardens. Andie also installed a sign in her rain garden to educate the public about the benefits the rain garden plays in keeping their island healthy.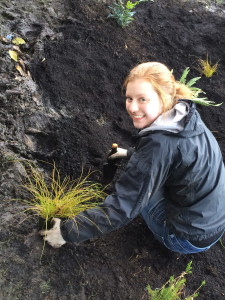 Andie's Gold Award was a large undertaking, but it's not her favorite Girl Scout memory. Her all-time favorite Girl Scout experience came during her troop's road trip to San Francisco. The troop planned the trip with a balance of new experiences, service projects and bonding with their Girl Scout sisters. They learned about Californian coastal ecology, stopped by the Shakespeare Festival in Ashland, Oregon, and had time to bond with each other.
"One night we had dinner and tea at the beach, and were singing and dancing and playing in the ocean," Andie recalls. "We had been together since elementary school and it was amazing to know I could be myself around these girls and they would accept me. It wasn't this big moment, but I loved it because we were all together, just having fun in this beautiful place,"
Andie is now in college on the East coast, but when she looks back on her time in Girl Scouts, it's the people who matter most to her.
"We all came from different parts of the social scene, and were in different grades, so we didn't interact much at school," she says, "but we would come together for Girl Scouts. I knew these people were my true friends. I wouldn't have them in my life without Girl Scouts."