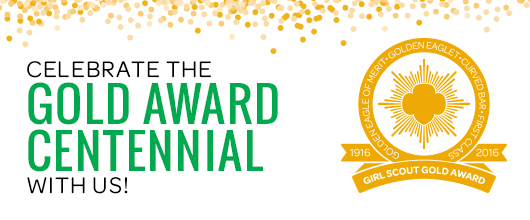 Over the last century, young women have honed their leadership skills to earn the highest award in Girl Scouts.
While this award has gone by many names—starting as the Golden Eaglet of Merit in 1916 and becoming the Gold Award in 1980—it's always recognized girls who take action to make our world a better place. Gold Award earners do good work in our backyard, throughout our country and on the other side of the planet!
Now it's time to celebrate the Gold Award Centennial—and we want you to join us!
Throughout the next Girl Scout membership year, we'll throw parties and offer special activities for everyone to get involved. Here are just a few ways you can join the fun …
For everyone: Earn the Gold Award Centennial Patch
Girl Scouts of all ages (including adults) can earn the special Gold Award Centennial patch. However, it will only be available during the 2015-16 Girl Scout year—so get started now!
For everyone: Save the Date for the Gold Award Centennial Extravaganza!
On June 25, 1,000 or more Girl Scouts from all across our state will come together for fun activities—including awesome guest speakers, learning new Take Action skills, and more.
For Juniors-Ambassadors: Earn a Highest Award
If you earn your Bronze, Silver, or Gold Award this year, you'll also receive a special centennial certificate!
For Gold and Silver Award Earners: Come to the Gold Award Gala
This glam invitation-only event will include an award ceremony for both Gold and Silver Award earners!
For Girl Scout Alumnae: Join Us at an Event
Did you earn the Gold Award, First Class, Curved Bar, or Golden Eaglet? Let us know by emailing goldawards@girlscoutsww.org and we'll invite you to special Gold Award social events throughout the year!
Here's to another amazing 100 years!