How's this for a rock star quote?
"I would quit my job and help sell Girl Scout Cookies every day of my life if I could."
Whoa! Who said that? Do you think it was a girl? Nope. It was a dad!
"I love helping my daughter reach her goals!" says Elliott Gustavson, a troop leader from Lynnwood whose daughter has some mighty impressive goals.
"Her first year she sold 500 boxes, her second year she sold 1100 boxes and this year she sold 1600 boxes," Elliott chuckles.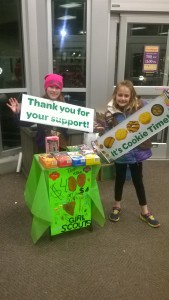 One of the things Elliott loves teaching his daughter, Aly – who is in his troop, along with 13 other girls – is how to set important goals. Because Aly is only 8, he knows he'll have to help her along a bit more in the process, but she's slowly beginning to understand what it all means.
For example, when she set her goal for this year, he reminded her that if she wanted to sell that many cookies, she'd have to sell every day.
"Next year, she'll have to figure it out herself and tell ME what she plans to do, instead of me helping her figure it out!" Elliott says.